Taking a look at life in the fast lane in Pahrump
September 14, 2018 - 7:00 am
Along Nevada Highway 160, not far from the RV Superstore, those with a taste for sports cars have a place to burn rubber.
The Spring Mountain Motor Resort and Country Club offers the well-heeled a private getaway to drive fast. Membership costs $60,000 to join, renting a garage typically runs $500 a month, and home sites, starting at $250,000 each, are available to members who want to build a house there — all in a town where the median household income hovers around $42,000.
The club's main attraction is the 6.1-mile racetrack. Spring Mountain co-owner and CEO John Morris wants to expand it to become the world's longest — and, if he has his way, to include his property in a newly incorporated city.
The federal Bureau of Land Management announced in late July that Spring Mountain's owners want to acquire 621 acres of adjacent land from the agency for the expansion project. A 45-day public comment period will end Sept. 12, and the acreage would be sold in two phases — one this fall and the other next summer, the BLM said.
Morris said in a recent interview that he expects to pay around $1.5 million for the land.
He plans to make the track, at 3601 S. Highway 160, more than 15 miles long, as well as build a go-kart track and a mile-long airstrip that would let members jet in and out on private aircraft.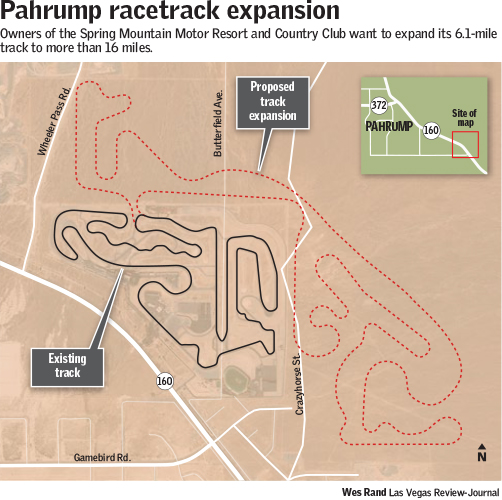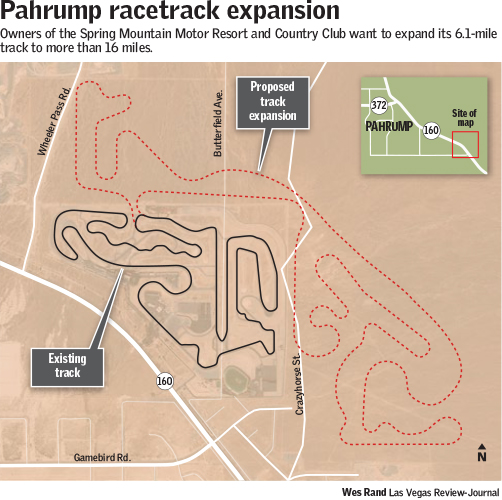 "It is going to be an important part of the club," he said of the runway, "because we have so many members who want to fly."
Second Silverton
Annual membership dues are $5,000, Morris said. The club has around 330 members, most of whom live outside Southern Nevada, including in Canada and Australia. And if you live in Las Vegas and have never heard of the country-club racetrack in neighboring Nye County, you aren't alone.
"That's always been the case," Morris said.
He expects to finish the track expansion by 2021, and other projects are also in the works.
Silverton owner Ed Roski, the billionaire chairman of Majestic Realty Co., plans to develop a five-story, 125-room hotel with an attached Silverton-branded casino along Highway 160 near Spring Mountain's main entrance, according to Craig Cavileer, executive vice president at Majestic. The project site is separate from the BLM purchase.
Morris and his brother-in-law, Brad Rambo, bought the then-2.2-mile-track in 2004. Most members keep vehicles there, including Ferraris, McLarens and BMWs, and there is no speed limit on the raceway, marketing director Todd Crutcher said.
Still, a "big part of the income" at Spring Mountain comes from its driving schools, Morris said.
Buyers of new Corvettes are offered a partially or fully subsidized driving and safety school at the club, paid for by the car's manufacturer. Buyers of Cadillac CTS-Vs (top track speed of 200 mph, its website says) and Cadillac ATS-Vs ("thunderous performance") also get two free days of instruction, courtesy of the car company.
The regular price of a two-day program starts at $2,500, Crutcher said.
Johnstown, Nevada?
Expansion plans aside, Morris said "the ultimate goal is to incorporate our own city." Pahrump is unincorporated, and Morris' hoped-for municipality would encompass his country club, the Mountain Falls residential development and other nearby property, he said.
He did not know exactly how large the city would be, but said incorporating "gives you a lot more control and then you have funds that can be matched by the government to do other things."
Asked the possible name, he said, "I'm thinking of Johnstown," but indicated no decision was made.
A representative for Mountain Falls developer William Lyon Homes did not respond to requests for comment.
Nye County government spokesman Arnold Knightly said "nothing official" has been filed with the county for the effort.
Contact Eli Segall at esegall@reviewjournal.com or 702-383-0342. Follow @eli_segall on Twitter.
In case you missed it
Go to pvtimes.com for a closer look at growth plans at Spring Mountain Motor Resort and Country Club. See stories, photos and videos